Highlights from the Hemispheric Institute's 'Encuentro', a report from São Paulo, Brazil: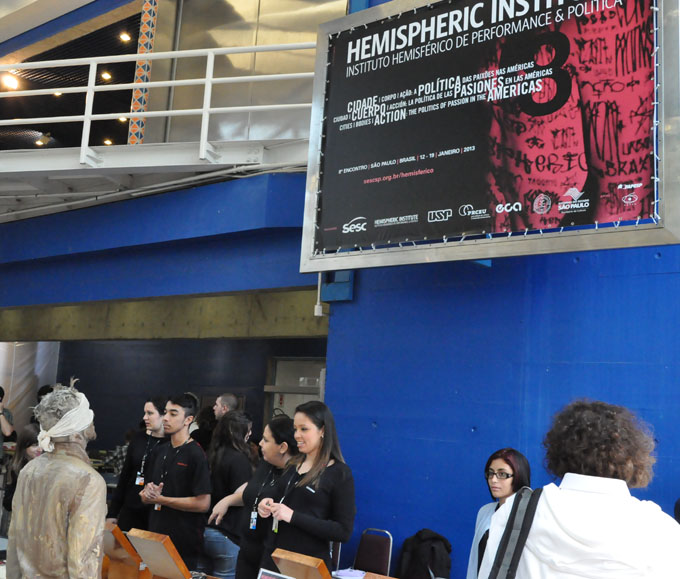 Aluna's artistic creators Beatriz Pizano and Trevor Schwellnus are attending the 8th Encuentro of the Hemispheric Institute of Performance and Politics in São Paulo. This year's theme is Cities| Bodies| Action: the politics of Passion in Americas. The goal is to examine the link between performance and politics from the critical poetics of body art to the occupation of public space by social movements.
The Hemispheric Institute of Performance and Politics (New York) is a collaborative, multilingual and interdisciplinary network of institutions, artists, scholars, and activists throughout the Americas.
So what have we seen?
1) The award acceptance speech by Miguel Rubio and Teresa Ralli from Grupo Cultural Yuyachkani (Peru).
A potent reminder about how theatre speaks to a culture. The "Yuyachkani's" reminded us that theatre is about actively engaging with a society from within…risking and always staying fresh. My favorite quote: "We call ourselves beginners with experience".
2) The Brazilian companies: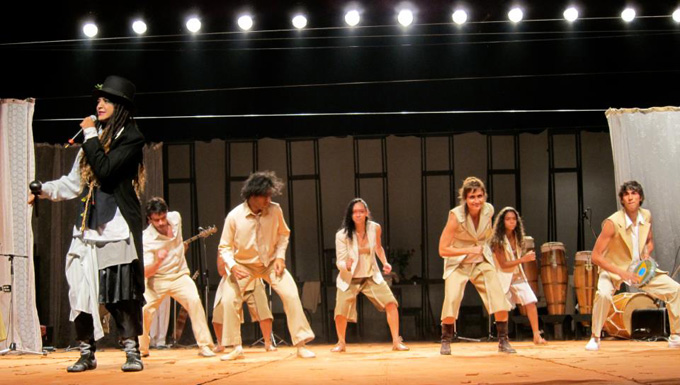 Núcleo Bartolomeu de Depoimentos (Brazil) with Mestizo Orpheus: a Brazilian Hip-Hop.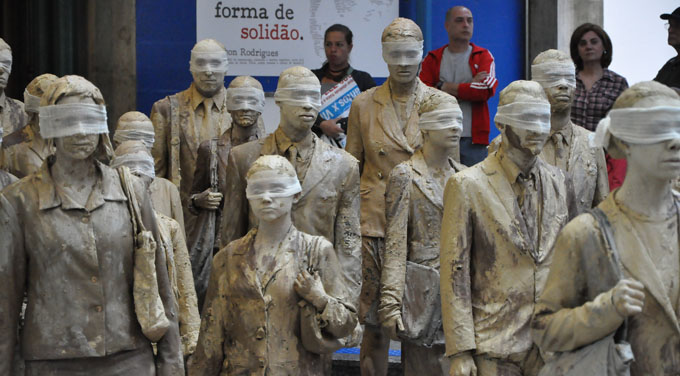 Cegos / Ciegos / Blind – an urban intervention by Desvio Coletivo and Coletivo Pi.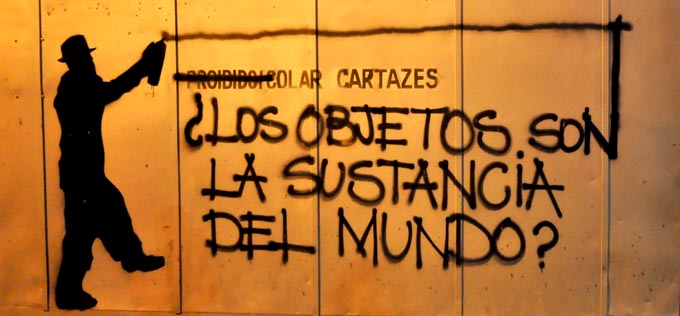 The jaw-dropping site-specific romp through a mall, the streets, and an abandoned theatre in the superb Bom Retiro 958 Metros by Teatro da Vertigem.
The economical Potestad by Colectivo de teatro da Margem & ÁQIS (no picture).
These groups are innovative, original, bold and take incredible risks! I had never seen such committed and versatile performers. They really understand physical theatre and leave it all on the floor.
3) The Social Activists:

In the Streets:  Contemporary Social Movements in the Americas with Jade Percassi, "El Che de los Gays" Victor Hugo Robles,  Juan Marco Vaggione, Jaques Servin (of the Yes Men), Adriana Guzmán and Julieta Paredes (of Women Creating).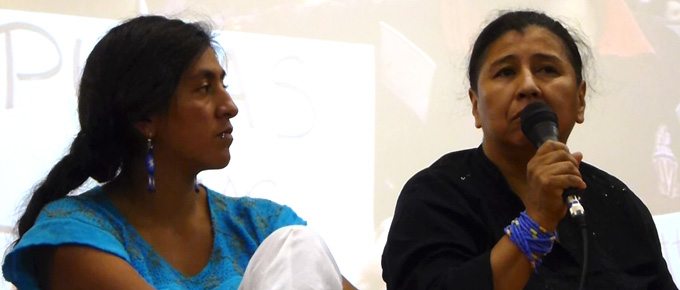 Adriana and Julieta from Mujeres Creando (Women Creating), our sisters from Bolivia, brought the house down with their passion: "We are enamored with our peoples. Is beautiful to be living at this moment in time. We are in love, passionately, with our utopia and with the hope for our peoples. Indigenous peoples are beyond resisting, we are in a time where we are building the worlds we imagine".
4) The workshops: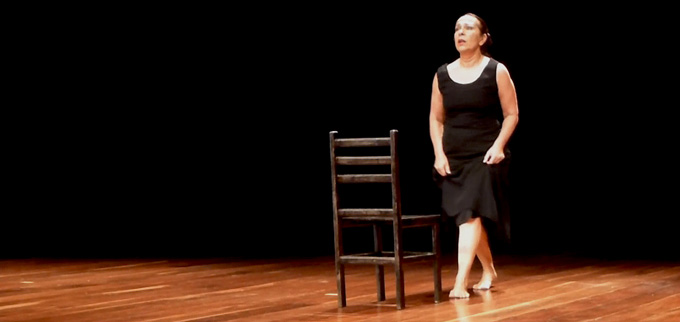 Beatriz attended Teresa Ralli's presentation of "Disassembling Antigona" about Yuyachkani's creative process in the creation of this one woman show. It reminded us of the dream of having groups – permanent ensembles – in Canada where the work is not measured by imposed schedules. Where each artist commits with body and soul to the creation process.  Following this was Teresa's workshop, "The Voice's Body" – intensive voice practice where – as the tittle describes it – the work starts with the body. No talking heads.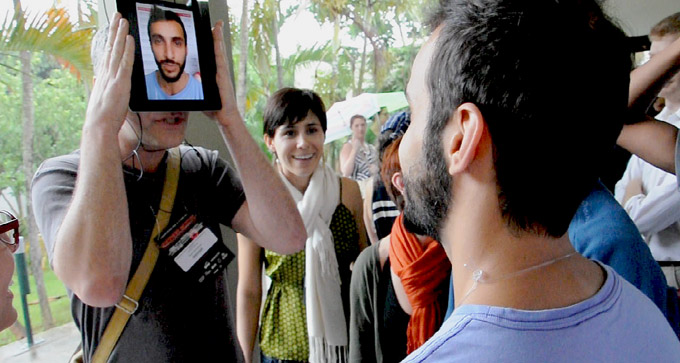 Trevor joined the sandbox project, jamming with local and international artists on ways to work around/ transform the idea of 'blockages'.  We created an intervention based on speaking the words of a language we don't understand by auto-reciting on-the-street interviews.
Last but not least— we are very taken with São Paulo, a cosmopolitan city that does not hide its guts.  Raw and chaotic, with more rain than Vancouver, 20 million people make this place a vibrant centre of creativity. We look forward to the next few days of work, discussion, and performance here.