This year, Loco 7 is returning to RUTAS panamericanas with a new piece called Undefined Fraction. I'll be looking forward to this piece since this is a company that I have had the pleasure of working with back at RUTAS first festival. In 2015, Undefined Fraction – co-created by Federico Restrepo and Denise Greber– had its world premier at La MaMa Puppet Series in New York City.
Restrepo has premiered, designed, performed and directed thirteen original pieces at La MaMa in New York City, and has toured all around the world. Greber is an artist in residence at La MaMa, a member of La MaMa's Great Jones Repertory Company, and the managing director of Loco7 since 2001. They not only had their world premier of a show during the La Mama Puppet Series, but the duo had also been responsible for producing, directing, and curating the festival as well.
Undefined Fraction is Restrepo's and Greber's response to Pedro Calderón de la Barca's, Life's a Dream. This is Calderón's best-known and most studied works, dealing with themes such as dreams vs. reality and the conflict between father and son. Published in 1635, Life's a dream has been adapted for other staged works, in film and even as a novel.
Both Undefined Fraction and Calderon's piece explore the philosophical question of what defines the "real world" and perhaps our reality is just a figment of our imagination and if so, what if it were a dream we could wake up from? Undefined Fraction will be a further exploration of what Calderón started. The piece will also give a chance to admire story telling from a whole new perspective, reminding us that although powerful, voice and text aren't the only way to tell a story. Restrepo and Greber understand that merging design and performer creates a truly magical world. This is where Loco7's larger than life puppets come to play.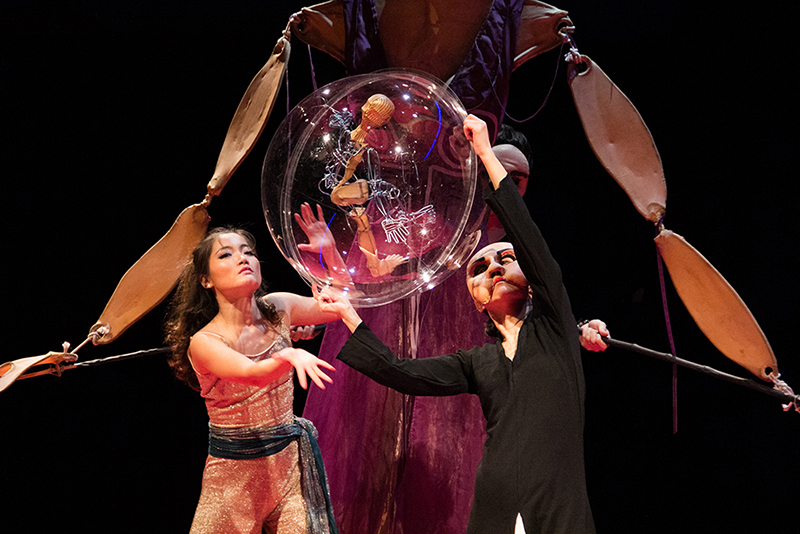 Backed with live music, the audience will be immersed in a world that challenges their understanding of performance, bearing witness to the breadth and depth of human emotion a puppet can hold. With puppetry, the audience is being asked to imagine, if not for a moment, that an inanimate object could actually breathe, could suffer, even love. Co-creators Restrepo and Greber have a deep understanding of the surreal world puppets can create, and have chosen this medium to further expand the philosophical themes that take place in Calderón's classical piece, fusing them to create Undefined fraction.
It's a perfect example of how theatre practitioners from all over the world are re-imagining the "classics" and making it their own. The creators have truly taken creative liberty by going beyond sticking strictly to the text in order to create a new world. They have taken it upon themselves to cut out characters, text and even made up new characters as much as they wanted. When it comes down to it, I have always believed that you must generate as much material as possible and then choose what serves the story best.
Text by: Jessica Zepeda
Internationally acclaimed company Loco 7 presents Undefined Fraction, a puppet theatre dance piece created in response to Pedro Calderón de la Barca's Life's a Dream. Through stunning visuals, the piece traces patterns of inequality and reflects on the principles of justice, guilt, punishment and the conflict between free will and fate. Is the "real world" actually some sort of illusion, a dream from which we will some day awake?
Jessica Zepeda is a member of CANACOS, a group of Latin Canadian professional theatre artists supported by Aluna, who will act as artistic ambassadors throughout RUTAS panamericanas 2016. Tickets for Undefined Fraction and all festival presentations are now available at www.rutas.ca.