Two. More. Weeks. Aluna Theatre, in partnership with Native Earth Performing Arts, presents RUTAS panamericanas, an International Performing Arts Festival in Toronto, and I couldn't be more excited for the performances coming this year.
Te Rehia Theatre's SolOthello will be presented at RUTAS panamericanas, as curated –for the first time in the festival's history – by a special guest company, Native Earth Performing Arts. This is a show that certainly fits under the festival's description of reinventing European classics, and has truly taken creative license to a whole new level.
The creator is Regan Taylor, a graduate of The UCOL Theatre School (New Zealand), a performer with great skill and knowledge of physical theatre, comedia dell' arte, and an appreciation for shakespeare, but The Bard wasn't always his favourite. Taylor considered Shakespeare's work to be more of an exercise in technique, rather than intuitive, but once he embraced how relevant Shakespeare's stories could be for a contemporary audience, Taylor challenged himself. He chose to work on Othello and make it accessible to his own family – by changing the language. He chose to focus on specific characters to tell the classic tragedy. In his creation process, Taylor combined Shakespeare's imagery with Te Reo, the language of the Māori people, the indigenous population of New Zealand.
Taylor went beyond creating a mere literal translation of the piece. He chose to transcend language by incorporating his knowledge of commedia dell'arte, a form of theatre from Italy that uses masks to create scenes and explore archetypes. Taylor fused the mask work done in commedia dell'arte with Ta Moko, the permanent body and face marking by the Māori people, as well as kapa haka style movements, to bring Shakespeare's classic characters to life.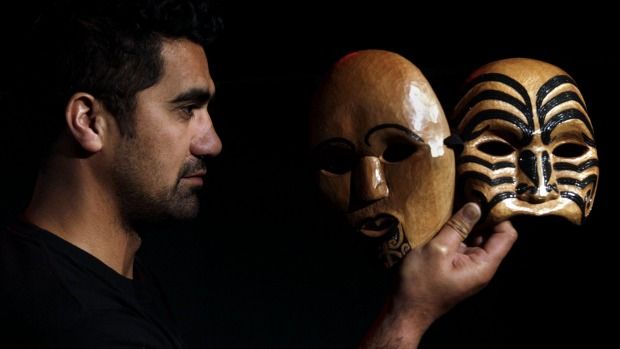 Regan Taylor in an earlier production of SolOthello
This year, Toronto will get a chance to witness SolOthello, performed here by Tainui Tukiwaho. Tainui has an extensive career as an actor, director and more recently writer in the theatre. He is also the founding Artistic Director of Te Rehia Theatre, which he founded in 2012. He is also a professional theatre producer who approaches all aspects of his job with a focus on theatre and te Ao Maori.
I'm very excited to see this show since I also find Shakespeare's language to be outdated and face palm into my hands whenever I hear of a Shakespeare remount, but Taylor's Māori twist, paired with Tukiwaho's approach from a Te Maori world view, will surely give Toronto's audiences a glimpse of what a bold choice this is in approaching Shakespeare, and a necessary one at that.
New Zealand and Canada have had similar histories in having both been colonized by the British Empire. SolOthello demonstrates how theatre can be used as a positive tool for decolonization in an incredibly artistic way. Taylor says, "People are identifying with their culture, there seems to be more acceptance of Te Reo and there is also a lot of having to undo what was done, which was suppressing the language. So that takes a lot of work too, working through the hurt and then letting the language flourish. The masks can be a vehicle for that." I couldn't agree more.
(See an interview with Amber Curreen (Maori Theatre Producer) talking about SolOthello and RUTAS here.)
Text by: Jessica Zepeda
SolOthello – Using traditional Maori masks (Te Mata Kokako o Rehia), this solo interpretation of Othello by Regan Taylor puts the spotlight on the characters Iago, Rodrigo, Othello and Desdemona, and places them into the context of a war between tribes in pre-colonial New Zealand. SolOTHELLO put s a bold and humorous Maori twist on the classic tragedy in which Te Reo, original prose, and contemporary English come together.
Jessica Zepeda is a member of CANACOS, a group of Latin Canadian professional theatre artists supported by Aluna, who will act as artistic ambassadors throughout RUTAS panamericanas 2016. Tickets for SolOthello and all festival presentations are now available at www.rutas.ca.